Landscape Designer
Benefit from the expertise of a landscaping professional for the design, construction and maintenance of your outdoor and indoor space in Lyon: garden, swimming pool, terrace, balcony, courtyard, patio, condominium garden, rooftop, vegetable garden and vegetal interior design.
What Landscaper Designers and Gardeners can do for you
Creating and customizing an outdoor living space, whether it is private or shared with others
Providing mockups, sketches, maps and 3D renderings in order to help you picture your future environment
Specifying your landscaping project: materials, plants and furniture that will be used
Choosing plants according to sustainable and responsible criteria, such as drip irrigation
Providing advice regarding the day to day maintenance of your plants or choosing the right gardener for your space
Integrating a vegetable garden into your ornamental garden
Designing, installing and maintaining an indoor vegetal space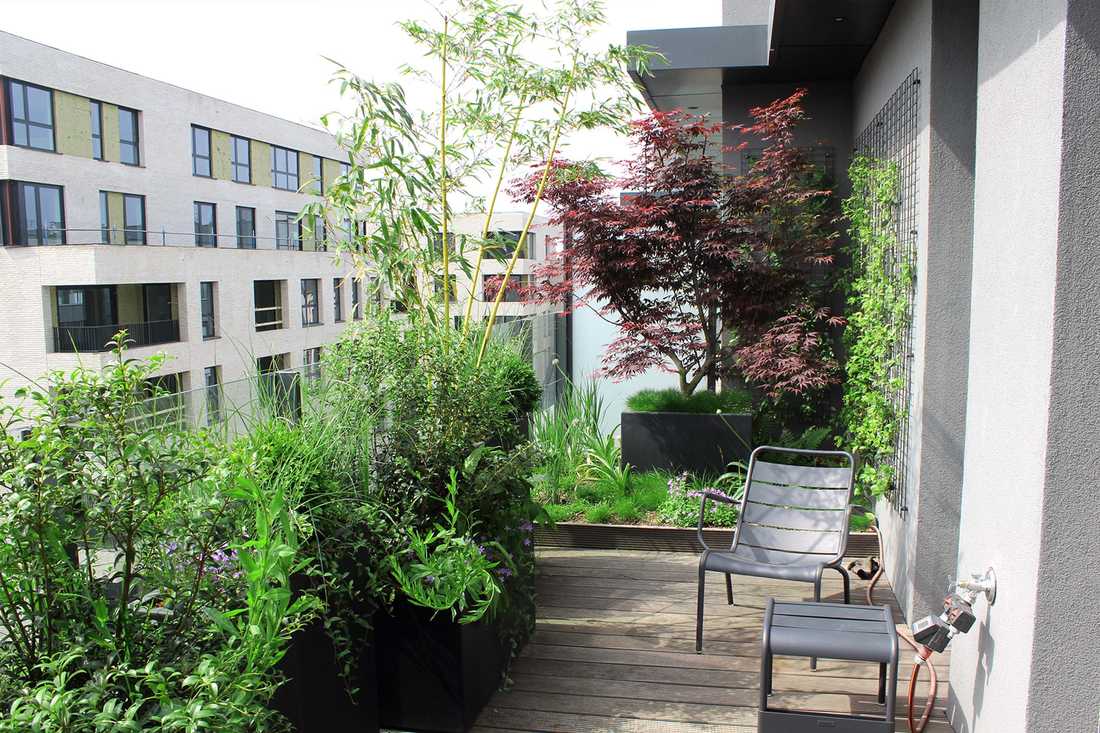 Collaborating With a Landscape Designer or a Gardener: How It Works
Step 1: Initial interview
A landscape designer meets you at your home in Lyon or in Auvergne-Rhône-Alpes region area. The goal of this first meeting is to define your landscaping project. Landscape architects help you conceive, visualise and define your green space, so that it is the most welcoming, relaxing and aesthetically pleasant.
Main takeaways from the first meeting:
Inventory of needs
Measurements
Orientation study
Environment study (soil…)
Brightness & darkness (indoor space)
Hygrometric measurements
Early diagnosis of strenghts and shortcomings
All these takeaways will help your architect to formulate specifications.
Step 2: Specifications of your landscaping project
Following the first meeting, the landscape designer or gardener sends you a proposal with attachments such as sketches, 3D plans and a list of suggested furniture, material and accessories.
After you validate the orientation, more technical details are provided, that will ensure the proper execution of the project. These specifications are also intended to be shared with the company that will carry out the works.
During this stage, landscape architects can design custom furniture for you, such as planters, basins, fountains, garden furniture, storage units.
Based on these specifications, several contractors are contacted in order to get quotes for the work execution. The landscape designer assists you in choosing the best offer.
Step 3: Execution by a gardener
There are two ways to execute the project:
Your landscape designer or gardener is also in charge of executing the work
Your landscape designer monitors the work performed by a contractor
Upon delivery of your project, you will receive all the information necessary for the proper maintenance of your space.
Works usually carried out in landscaping projects:
Earthwork
Landscape masonry
Flooring
Container set up
Selection of plants in nursery
Planting
Watering and lighting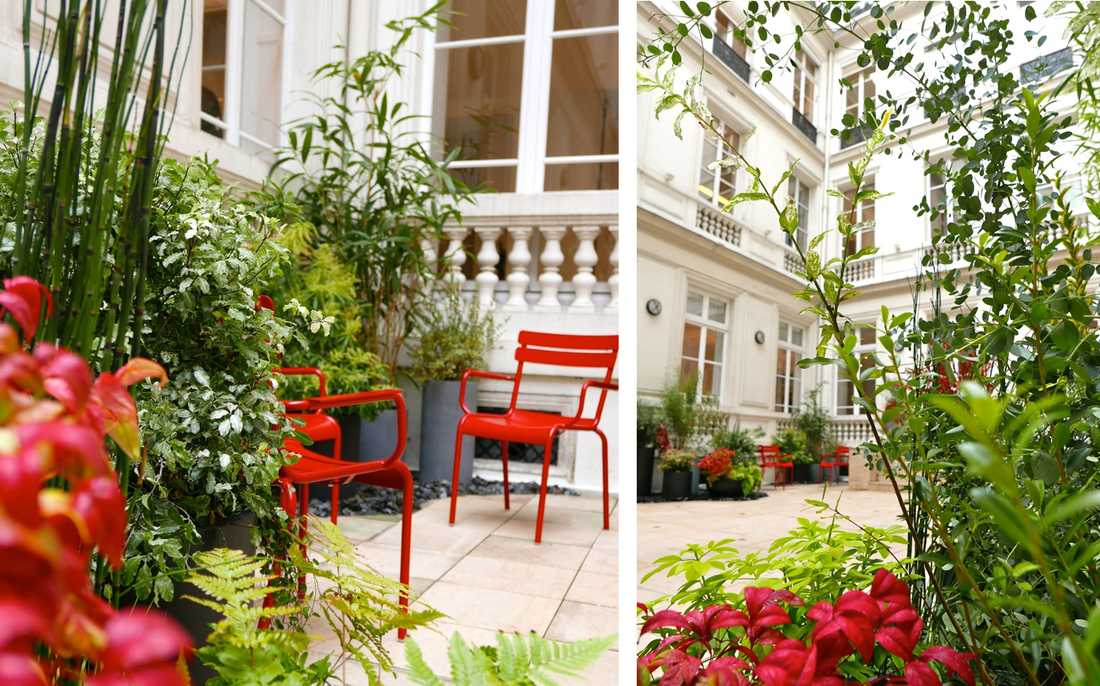 Landscape designer or gardener fees VAT ex.
1st step - Initial interview
 

80 € / hour
(refunded if first meeting is followed by specifications)
2nd step - Specifications
For a small space, or indoors only
From 800 €
Between 20 and 100 m²
From 1 600 €
Between 101 and 300 m²
From 2 500 €
Surface ⩾ 301 m²
From 3 000 €
Large surface
On quotation
3rd step - Execution & Coordination
| | |
| --- | --- |
| For a small space, or indoors only | From 800 € |
| Works amount ⩽ 15 000 € | From 1 600 € |
| Between 15 000 € and 30 000 € | 10 % of the works amount |
| Between 30 000 € and 60 000 € | 9 % of the works amount |
| More than 60 000 € | 8 % of the works amount |
| Large surface | On quotation |
You are free to work with us for only one step of your project.
Our landscape designer service is available in Lyon and surrounding municipalities such as Tassin, Ecully, Sainte-Foy-lès-Lyon, Caluire-et-Cuire, Champagne au Mont d'Or, Saint-Didier au Mont d'Or, Saint-Cyr au Mont d'Or, Couzon au Mont d'Or, Saint Germain au Mont d'Or, and in the Beaujolais region, in Beaujeu, Villefranche-sur-Saône and Oingt. Our architects and interior designers also in the Rhône department (69): Limonest, Chasselay, Dardilly, Genas, Chassieu, St Bonnet de Mure, Saint Laurent de Mure, Solaize, Chaponnay. We can also travel to Isère (38) and Ain (01).